ProMRO Exhibits MRO Software for Aviation at Two NBAA Conferences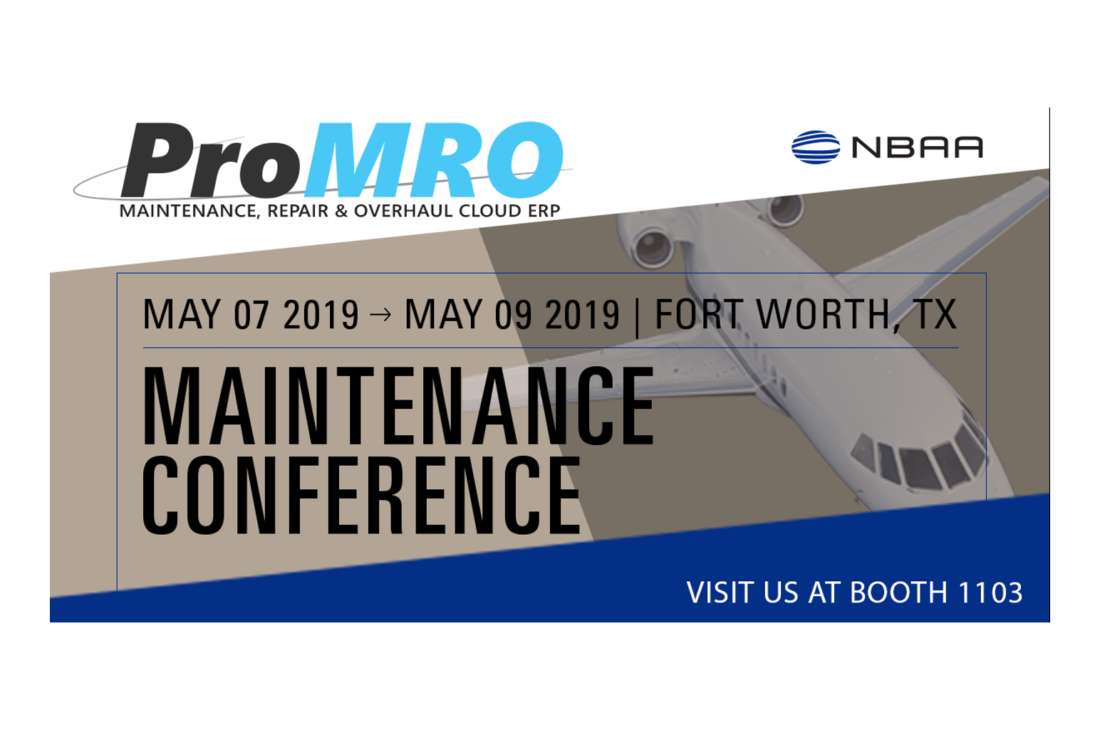 One constant in the aviation industry is change. The National Business Aviation Association (NBAA) gathers aviation leaders and visionaries to share best practices and stay current. This year from May 7 to May 9, 2019, NBAA combined 2019 Maintenance Conference is co-located in Fort Worth, TX with the Flight Attendant / Flight Technicians Conference. NBAA combined these two tradeshows in one location, so you get two for the price of one.
Our Clients First team is proud to exhibit our ProMRO solution in booth #1103. ProMRO allows MRO businesses to streamline information across quoting, job costing, invoicing, distribution, and reporting within a single easy to use system. We even have a manufacturing module if you have the need in your job shop. Are you looking for new ways to improve your MRO business? If so, we look forward to meeting you and learning how ProMRO and our aviation solution consultants might help improve your processes.
NCAA Maintenance Conference and Flight Attendant / Flight Technicians Conference Details
Dates: May 7 – 9, 2019
Location: Fort Worth Convention Center – Fort Worth, TX
About the NCAA Maintenance Conference – The NBAA Maintenance Conference is a gathering of all types of businesses involved in aircraft maintenance. Aircraft maintenance industry leaders, executives, directors of maintenance and technicians.
About the NCAA Flight Attendant / Flight Technicians Conference – The NCAA Flight Attendant / Flight Technicians Conference includes a network of flight attendants, contract flight attendants, and flight technicians.
Both conferences include:
1,100+ Attendees
170+ Exhibitors
Earn up to 1 NBAA Certified Aviation Manager (CAM) point and IA Renewal Credit…and more!
Visit our ProMRO team in booth #1103 during these exhibit hours.
Tuesday, May 7 12:00 pm to 5:00 pm
Wednesday, May 8 8:00 am to 5:00 pm
Thursday, May 9 8:00 am to 3:00 pm
ProMRO – a complete MRO software for the aviation industry
The aviation industry is one of the most regulated industries with strict compliance requirements and safety standards. The shop floor often struggles to get the job done right and on time. Many MRO businesses we talk encounter are using outdated, manual, or non-integrated systems. Our ProMRO solution helps to manage the complexity of aviation MRO with a modern, easy to use, and integrated system.
Special ProMRO aviation software features and benefits:
Complete CRM, Job Costing, Distribution & Finance
One system to prospect, sell, service & more
Aircraft history ready for reporting & reference
Full serial number tracking
Unlimited users or a small business edition
Move your current data using our Easy Import
Ability to download the FAA Aircraft registry database so all aircraft information is on hand for repair or marketing
Generate FAA 8130-3 automatically for specified parts
Do you have a complex job shop? Download our whitepaper: ERP Success for the Complex Job Shop
Contact our Clients First Sales Team
Our Clients First team helps MRO companies on the path to a shop of the future. Integration is key to empower you to analyze inventory and labor costs, track quality, and handle all the operations and financial aspects of your business and ProMRO is one fully integrated solution.
Clients First is known for our vertical expertise in Maintenance, Repair and Overhaul (MRO) for Aviation or Equipment, Manufacturing and Job Shops.
Contact us at 800-331-8382 or email info@promrosoftware.com. Clients First located in Dallas, Texas and Minneapolis, Minnesota serve companies worldwide.