ProMRO Aviation Edition Overview
ERP For the Aviation MRO

ProMRO Cloud ERP Aviation Edition is designed for the MRO and distributor. Aviation MROs need an easy to use solution that is designed for their industry.  ProMRO allows the MRO the ability to create work order service profiles/task cards which saves quoting and setup time.   It's easy to create purchase orders tied to the work order right from the job screen.  Get your shop focusing on repairs and not on finding a paper work order instead get modern and use our Shop Floor Kiosk application that is super easy to use on any Internet enabled device to quickly enter their job data in a real-time ERP solution. There are many more benefits for your MRO business.  Visit our benefits page to learn more.
ProMRO for Aviation Overview Demonstration
ProMRO is available as a SaaS subscription which you can be deployed in the Cloud, on your servers or hosted by a third party provider. We will help you determine the best deployment for your organization. The price is same regardless of your deployment choice. This is important because some aviation MROs have government compliance that must be met within a government cloud or on premise.
What differentiates ProMRO from other MRO solutions is that it is embedded within a complete ERP (enterprise resource planning) solution. There is no need for multiple software solutions or spreadsheets.
Our solution designed specifically for the MRO (aviation or heavy equipment) and is perfect for the small to mid-sized MRO.  The demonstrations below are shown with Acumatica the Cloud ERP. Watch our videos and contact Clients First for a full demonstration of ProMRO.
ProMRO Webinar Recording
ProMRO Aviation Edition: Shop Floor for Techs App
ProMRO Aviation Edition: Service Task Card Profiles
ProMRO Aviation Edition: Programs
Read our eBrochure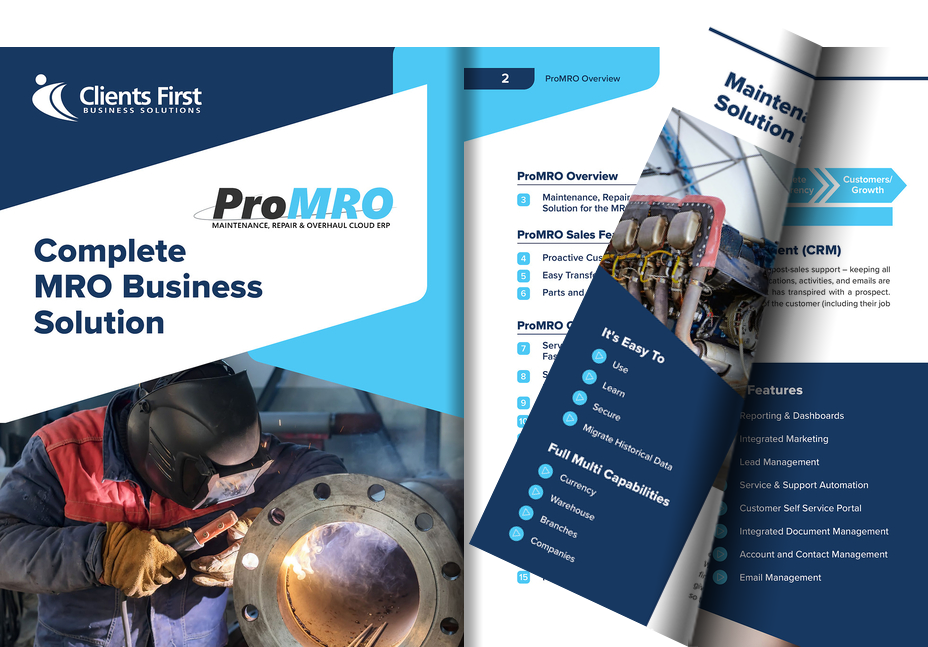 Nothing replaces a live presentation so please reach out to us to discuss your business requirements and schedule a demonstration.  Please call us at 800.331.8382 or send us an email at info@promrosoftware.com.