ProMRO Aviation Edition Overview
Cloud ERP For the Aviation MRO
ProMRO Cloud ERP Aviation Edition is designed for the MRO and distributor. Aviation MROs need an easy to use solution that is designed for their industry. ProMRO allows the MRO the ability to create work order service profiles/task cards which saves quoting and setup time. Easy to create purchasing for assignment to a work order can be completed right from the projects screen. Buying and selling parts has never been easier for the MRO distributor or service department with the PartsBase integration. Print or email the 8130 and more compliance documents automatically.
Our solution designed specifically for the MRO (aviation or heavy equipment) and is perfect for the small to mid-sized MRO.  Our ProMRO solution is built on Acumatica the Cloud ERP. Watch our short video and contact Clients First for a full demonstration of ProMRO.
ProMRO for Aviation Overview Demonstration
Read our eBrochure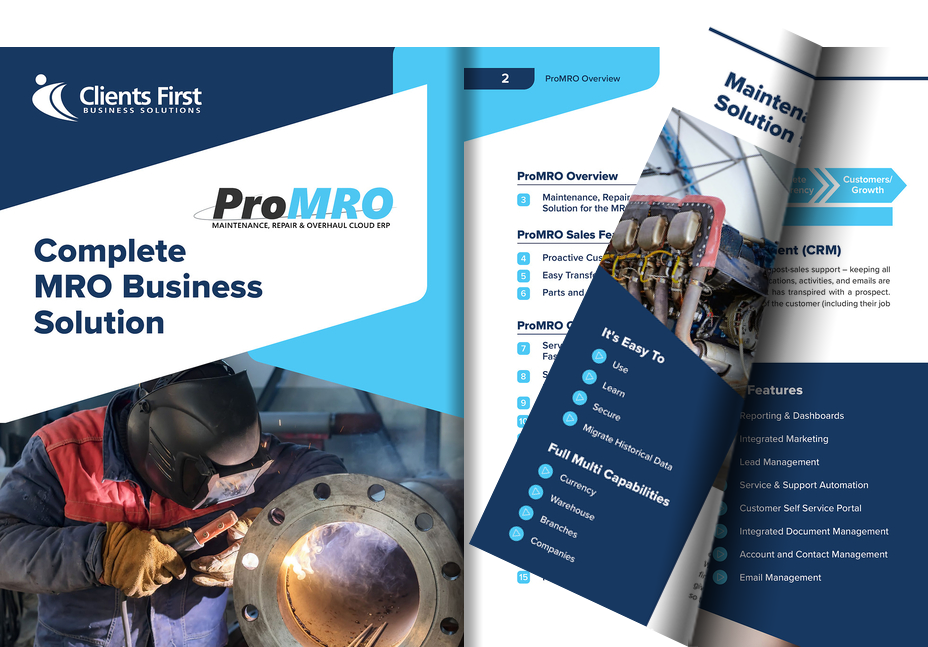 Contact Us For More Information
Nothing replaces a live presentation so please reach out to us to discuss your business requirements and schedule a demonstration.  Please call us at 800.331.8382 or send us an email at info@promrosoftware.com.