MRO Software ProMRO and PartBase Helps Manufacturers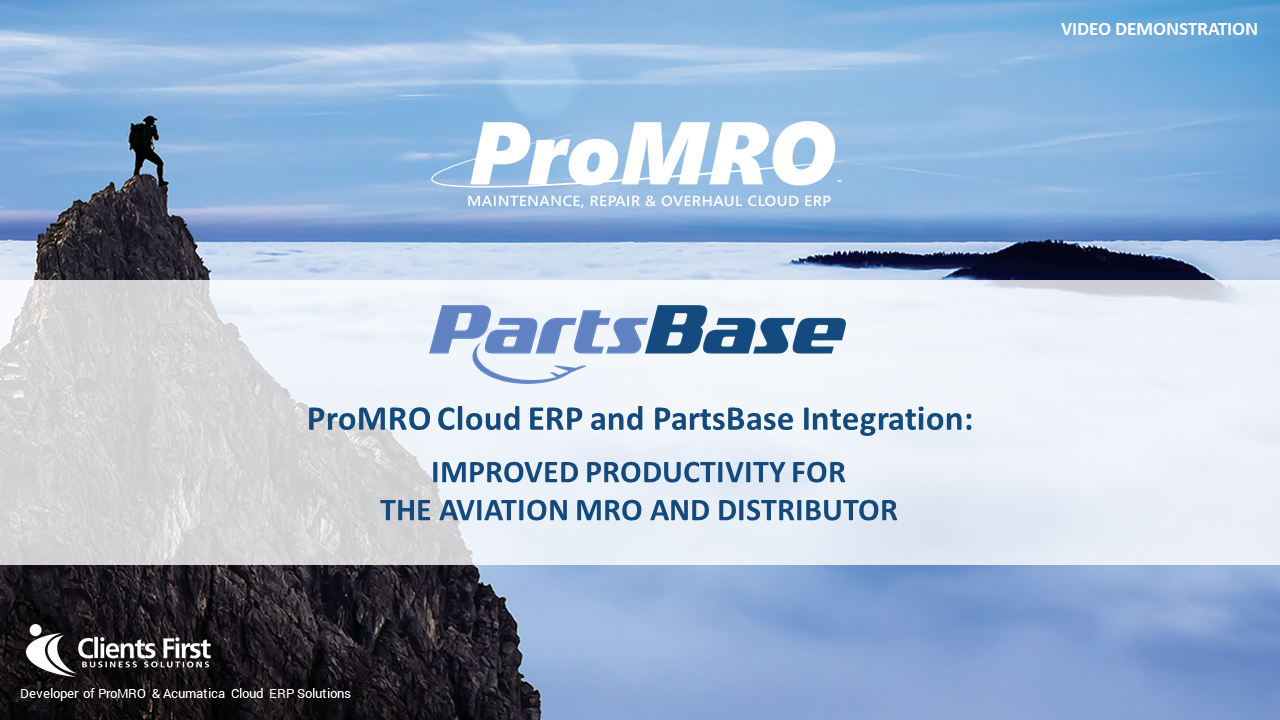 Are you frustrated with your MRO software?
PartsBase combined with ProMRO is a modern solution to help propel your business. MRO software ProMRO saves time by seamlessly linking the PartsBase capabilities into your normal workflows and operations. Parts requested by customers are tracked from start to finish using the intuitive ProMRO CRM system dashboards. Shoppers and sellers have steamlined workflows with ProMRO.
ProMRO with PartsBase offers 5 integrated MRO software benefits:
1. Buying Parts
You can seamlessly search for PartsBase parts from within ProMRO. All available information is displayed, such as Quantity Available, All Vendor Information and more. With a push of a button, you can send a request for a quote or an email inquiring about the part from one or more sellers. Your PartsBase purchases are kept under control from the inception to Purchase,
2. Selling Parts
You have full control over what you list and not list when using the ProMRO's PartsBase integration. We understand that you may want to protect some inventory and only promote the excess on PartsBase which is why we give you the controls do so. We also understand that a request to buy parts is important which is why automatically create track the request along with your quotes and all revisions.
3. Easy To Refresh
Your frequency of updating your PartsBase data impacts your ranking when prospective customers are looking for parts. The fresher the data the higher the ranking which is why you need this process reliable and automated without having to rely on people to manually extract & upload data.
4. Track Parts
The PartsBase buying activity is automatically tracked and displayed on dashboards to help you evaluate your relationship. Whether it's selling or buying parts, you will have easy to understand displays which summarizes your PartsBase activity.
5. Sales, Customer Work Order Management Integration
Utilize the inherent features and functionality in ProMRO including sales, customer management, work order management, and the following:
Eliminate error-prone spreadsheets that do not tie back to a central database and the time it takes to duplicate entries and reconcile at the end of the month.
Utilize a real-time software solution that will add automation and help your entire business run more efficiently.  Finance, inventory, purchasing, sales, labor, expenses and more!
Stay informed by reviewing profitability on the fly, create change orders if needed
Reduce quoting or job creation errors by utilizing Service Profiles which allows job or task templates to be created and reused or edited as needed at any point in the job process.
Easy Core Tracking
Flag FAA-approved Item specific Vendors for purchasing of inventory or repair items
Print 8130s, easily create new compliance reports
Save time by dragging and drop emails and attachments, compliance docs, etc No saving to your hard drive then attaching where needed. 
Accessible and usable on ANY Internet-enabled device
UNLIMITED USER WITH NO PER USER LICENSE COST
Check out our latest ProMRO: Integration to PartsBase! 

If your maintenance, repair, and overhaul (MRO) company is growing, then you know the value of a fully integrated business software system that can grow with you. You are well aware an integrated software system is paramount to achieve a more efficient transparent sales, procurement, work order management, and financials. Prosperous MRO companies have moved past antiquated manual processes, lots of paper, and gathering data to generate reports with time-consuming Excel spreadsheets. Today, ProMRO solutions give you real-time access to one database and one source of the truth. Data that and provides you with dashboard reporting, management by exception, and the right information at the right time. Integrated operations and finance software along with easy access to data allow you to have more time to make smart decisions. (Check out our dashboards page!)
MRO Software ProMRO with Acumatica Cloud ERP
Clients First saw a gap in the software market for the small to midsized MRO. Our years of MRO experience coupled with our expert developers and Acumatica Cloud ERP, we embedded ProMRO within the award-winning, affordable, and easy to use ERP solution. The PartsBase integration is icing on the cake for our customers. We can integrate with any marketplace that is on current technology with API available. We designed ProMRO to solve the unique challenges of the maintenance, repair and overhaul industry. Specifically, ProMRO is perfect for the heavy equipment, turbine or aviation MRO industries. We handle aviation compliance such as the 8130, N# tracking, FAA database download, repair templates and more. In addition, the distribution, CRM and warehouse management fill the MRO distributor's requirements too. ProMRO is modular so you only pay for what you need.
Click here for a spec sheet about our integration of PartsBase to our ProMRO solution.
The Clients First Difference
Clients First is known for our vertical expertise in Maintenance, Repair and Overhaul (MRO) for Aviation or Equipment, Manufacturing and Job Shops. We're a Microsoft Gold ERP Partner, a Certified Cloud Service Provider (CSP) and an Acumatica Gold Partner.
Our Clients First team helps MRO companies get on the path to profitablility. ProMRO is the key to empower you to analyze inventory and labor costs, profitability by job or squawk, (we don't have quality in our core product)and handle all the operations and financial aspects of your business is one fully integrated, easy to use solution.
Contact Us: Email: Dallas/Fort Worth, Texas or Minneapolis/St. Paul, Minnesota or call us at 800.331.8382. We're located in Dallas, Texas and Minneapolis, Minnesota and service companies worldwide.
Another version of this blog was published here.