ProMRO Showcased at MRO Americas 2019
Clients First, the publisher of ProMRO will be manning booth 2108 at the MRO Americas show on April 8, 2019. We are super excited to premiere this new software designed for the MROs financials and operations requirements. Written within Acumatica Cloud ERP which has been the LEADER in ease of use out of numerous other business software solutions and has no user access license fees, is just a couple of reasons why we chose this solution as the basis for ProMRO.
We're Giving Away $200
Visit us in booth 2108 and register for our $200 gift card giveaway, grab one or our balsa airplanes, and see the ProMRO software in action! Look for our logo:
And our large back banner!
The Quote IT, Do It, Bill It, MRO Business Solution!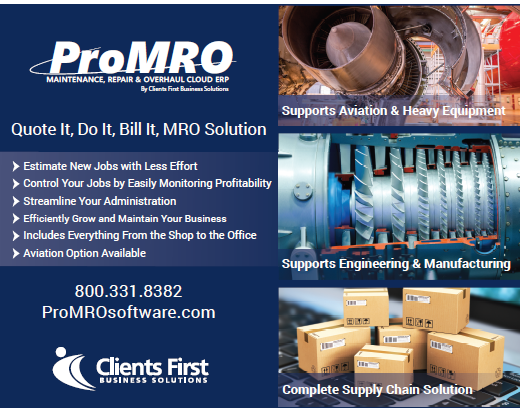 Why attend?
Aviation Week over 15,000 attendees and over 800 exhibitors.  Aviation and aerospace leaders, innovators and solution providers will converge to share trends, best practices, ideas, experiences and a lot of fun.  Come with your business challenges and ideas.
When?
Tuesday, April 9, 2019 at 10:30 am to 5:30 pm
Wednesday, April 10, 2019 at 9:30 am to 5:30 pm
Thursday, April 11, 2019 at 9:30 am to 1:00 pm
Where?
Free Registration
We hope to see you at MRO Americas! Click here to get your free registration: Register for the April 9 – 11, 2019 Show