7 Ways to Integrate MRO (Maintenance Repair and Overhaul) with ProMRO and Acumatica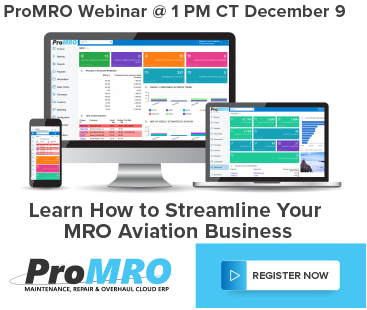 Integrate MRO with Automation – Learn How in this COMPLIMENTARY WEBINAR and LUNCH via GRUBHUB COURTESY of ProMRO and ACUMATICA
We look forward to showing you what one easy to use solution with no per user license cost can do for your MRO business. Register now!
Are you curious to learn 7 ways to integrate the entire Maintenance Repair and Overhaul (MRO) process with ProMRO?
It's not too late to register for our webinar and order your free lunch and learn entitled "7 Ways MRO's Increase Profitability with ProMRO and Acumatica." Together, the ProMRO and Acumatica integration is a complete ERP solution specifically designed for maintenance, repair and overhaul companies.
Register for our complimentary webinar with lunch on Acumatica and Clients First Business Solutions, the makers of the ProMRO solution and it's full Acumatica integration
WEBINAR: 7 Ways MRO's Increase Profitability with ProMRO and Acumatica and Integrate MRO and Streamline with Automation
Date: Wednesday, December 9th, 2020
Time: 1 PM CT / 11 AM PT
Join our MRO experts and learn how to breakdown data silos to give you an accurate picture of your MRO business. Since it is a single integrated application, you can ditch the labyrinth of spreadsheets. ProMRO enables MRO's to integrate the use of quality data that is key to achieving a more efficient transparent procurement and sales process.
On Wednesday, we'll demonstrate how ProMRO can streamline your MRO business with an integrated MRO solution:
Complete ERP solution – no disparate systems to maintain
Unlimited system users – saves money and gives access to any employee that needs it
Cloud, On-premise or hosted – you choose your deployment and access from anywhere on any device!
Dashboards for everyone – shows exactly what they need to do and your owner/CEO/CFO will love the reporting and KPI
Fast quoting and/or work order creation – use Service Profiles for repeatable work. Need shop approvals? No problem!
Core tracking customer equipment and history
PartsBase integration and open API for all your integration needs
SPECIAL INSTRUCTIONS ON HOW TO ORDER YOUR GRUBHUB LUNCH.
STEP 1. REGISTER for the WEBINAR
STEP 2. ORDER GRUBHUB LUNCH – You will receive your GRUBHUB Voucher ($35 value) before the webinar.
CLICK HERE for your GRUBHUB guide with ordering information on how to get your a GRUBHUB lunch.
MRO Software ProMRO with Acumatica Cloud ERP
Clients First saw a gap in the software market for the small to midsized MRO business. Our years of MRO experience coupled with our expert developers and Acumatica Cloud ERP, we embedded ProMRO within the award-winning, affordable, and easy to use ERP solution. The PartsBase integration is icing on the cake for our customers. We can integrate MRO with any marketplace solution that is on current technology with API available. We designed ProMRO to solve the unique challenges of the maintenance, repair and overhaul industry. Specifically, ProMRO is perfect for the heavy equipment, turbine or aviation MRO industries. We handle aviation compliance such as the 8130, N# tracking, FAA database download, repair templates and more. In addition, the distribution, CRM and warehouse management fill the MRO distributor's requirements too. ProMRO is modular so you only pay for what you need.
Click here for a spec sheet about our integration of PartsBase to our ProMRO solution.
The Clients First Difference
Clients First is known for our vertical expertise in Maintenance, Repair and Overhaul (MRO) for Aviation or Equipment, Manufacturing and Job Shops. We're a Microsoft Gold ERP Partner, a Certified Cloud Service Provider (CSP) and an Acumatica Gold Partner.
Our Clients First team helps MRO companies get on the path to profitability. ProMRO is the key to empower you to analyze inventory and labor costs, profitability by job or squawk and handle all the operations and financial aspects of your business is one fully integrated, easy to use solution.
Contact Us: Email: info@promrosoftware.com, or call us at 800.331.8382. We're located in Dallas, Texas with 7 locations nationwide.